Friendly Camper Bonjour !
Today we will compare our prices to those of our competitors on the fitted van rental!
Vintage Camper is family!
At Vintage Camper, we are in contact with customers and take the time to introduce you to each vehicle. We rent our vehicles on weekends or weekdays in high and low season, and we rent Camper T2 (vintage), Volkswagen T6 and vintage cars.
We're going to look at the newer vehicles, the T6 Volkswagen California coast.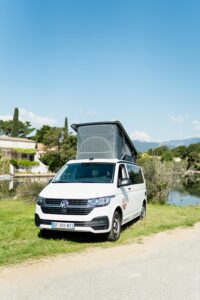 The locations !
Regarding our rentals on the Volkswagen T6 California Coast, we offer several colors.They are furnished with 4 beds, a sink, a hob and dishes provided.
Our Volkswagen T6 California are available with a mileage of 300 km per day including all-risk insurance.
At first, we will see the low season.Vintage Camper offers the California Coast for a weekend from Friday to Sunday included. It takes about 350 € for the weekend for 300 km per day and add 0.25€/km extra, which remains in the prices compared to other van rental companies in the region.
You are going to tell us that our van rental friends are also well placed, but we have the 50 € cleaning which is the cheapest on the market. While in our competitors, it takes about 10 to 15 € more for the household formula. For info the household formula reaches even 100€ at Roadsurfer. Thus, for a week in low season, it is necessary to count 690 € for 300 km per day with either the cleaning package and options that can be added as:
A shower cabin, a dry toilet, a bike carrier, etc… A rental from the train station or the airport is also available as an option.
Regarding the low season, Vintage Camper remains one of the best placed rental companies in terms of prices and rental options.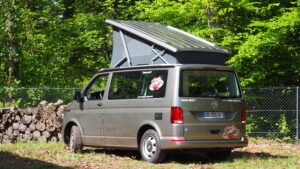 We continue on the high season at Vintage Camper.
For a weekend in high season with the same options as in low season. It takes about 390 € for a weekend between May and June. In July, it will take 480 € for the weekend and in August, we do not offer weekend rentals.
Thus, for weeks in high season, it will be necessary to count : 790 € for a week between May and June, 880 € for a week in July and 1050 € for a week in August.
Rentals in high season can be made from a week, depending on the months. On these summer rentals Vintage Camper remains the best placed with its inexpensive options and an interesting mileage package.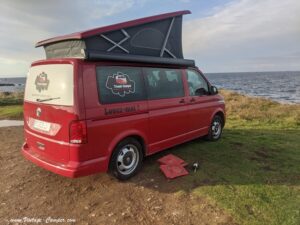 Finally, if you want to know more about our models or rentals, click here!
To discover our Volkswagen T6 California Coast, just click here!
We look forward to seeing you at Vintage Camper.
Friendly Vintage Camper !