FRIEND CAMPER HELLO!
Last Thursday, Vintage camper was able to try the new Volkswagen BUZZ ID 100% Electric. We will talk about it in this article, if you want to know more about the history of the combi click here!
An evolution towards the electric!
As previously mentioned, the BUZZ ID is a 100% Electric combi from Volkswagen. The announced range is 400 km, but plan instead between 350 and 360 km of range. Electricity is the current trend for many manufacturers, the ecological footprint is starting to worry the population and Volkswagen understands it.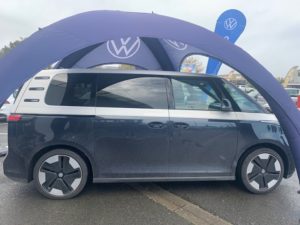 So, after several electric models, the manufacturer has released the mythical 100% electric combi to escape in peace. More ecological and quiet driving are the strong points of this vehicle that breaks the codes of the vintage combi. This vehicle charges by braking, which allows it to recover a light mileage of autonomy.
To conclude, the maximum speed announced is 145km/h, it is better not to have the foot too heavy to continue driving in peace. The battery is recharged in 30 minutes on an ultra fast terminal of 5 to 80% with a power of 170Kw.The power is 204 hp for a consumption between 20.8 and 21.7 kWh/100km.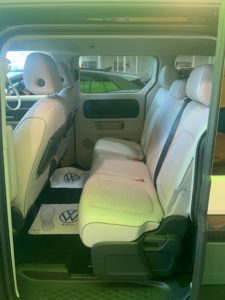 An electric vehicle is a

combi

!
Indeed, the test of the BUZZ ID combi took place for 25 minutes. The driving was simple and intuitive, a combi making no noise, it's weird! Being in an electric combi is very interesting, we feel to be really disconnected world.
In addition, the effect of the road trip is indeed present, the interior of the vehicle is quite sober, a steering wheel and a central tablet to manage the whole vehicle. The combi is available in 5 seats with a seat of 3, placed in the center of the combi.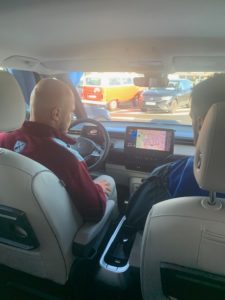 Moreover, everything is cared for for a make a pleasant and spacious trip. Some features of the vehicle could not be presented during the test.A smooth and pleasant driving with quite impressive acceleration for this type of vehicle is emphasized.
Finally, the electric combi still keeps the vintage style with the color biton that reminds us of the old Volkswagen.A combi like this is the new generation, but how far will it go?
A California style combi will be presented between 2025 and 2030, we expect more than to see it criss-crossing our roads!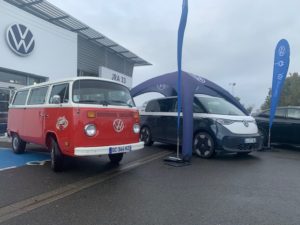 We look forward to your feedback on this vehicle and your feedback.
By clicking here, you will find the technical data of the vehicle!
For all combi or van VW reservations click here!
We remain at your disposal for any questions!