How to spend the winter in a fitted van?
Today at Vintage Camper, we give you tips for preparing your winter in a fitted van. Winter rhymes with cold, rain and magical scenery!
Choose your fitted van!
To start a winter in a van, opt for a recent van with a stationary heating as well as a rather large cabin to avoid being cramped. The Volkswagen T6 California are the best placed, unfortunately the shower is not inside as well as the sanitary facilities, so it will be necessary to find suitable places.
In addition, the driving must be simple and fluid, all that corresponds to the T6 California, a technology of the latest is recommended to spend a winter in total serenity. Thus on some vans, the store option is available for rainy or frost weather, this is appreciated for lunch in front of nature or even sheltered its objects.
The T6 California also has 4 beds, a double bed in the hood and a sofa bed downstairs. This makes it easier to store your belongings and thus use for the night than a single space! No worries for sleeping upstairs, heating is present throughout the cabin.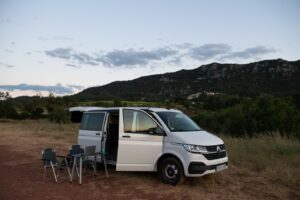 Prepare your winter!
At Vintage Camper, we provide dishes, cutlery, plates, glass and kitchen utensils.
For example, you need sleeping bags or duvets to keep you warm all night.
The shape memory mattresses will make you spend a sweet and pleasant night.
Pack some warm clothes anyway. We advise you to bring hiking bags or non-rigid bags to be able to store them more easily in the cabin and therefore not lose any living space.
The multiple storage units will be used as storage for sheets or blankets.
If you go together, you go a little tight, but if you go with 4, the cabin will be small especially in rainy weather.
In addition, it is better to cook hot food or with little smell. This will avoid embalming the living space without opening the windows to keep the heat.
The fridge that is available will keep your produce fresh for a while as well as storage for food.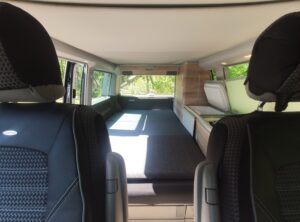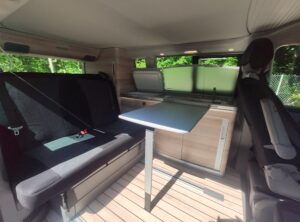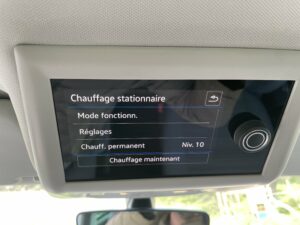 Now you are ready to face winter in Van.
For all information about a rental, click here!
En route for new adventures and happy holidays.
Friendly Vintage Camper !