Friendly Camper, bonjour !
At Vintage Camper, we offer several holiday offers!
A desire for adventure and discovery is possible thanks to Vintage Camper, your rental of Vans and combi in Bordeaux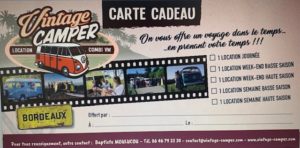 Give your loved ones an unusual adventure!
For this end of the year, Vintage Camper offers gift cards valid for 2 years, to delight your family or loved ones.
You can find the gift cards on our website or by email.
As for our gift cards, there are several possibilities.

You can choose a weekend rental in low or high season to discover the surroundings and disconnect.
The weekend rental is appreciated to go to the Arcachon basin, discover the Atlantic coast or get closer to our neighboring countries!
We also offer a weekly offer in low and high season. This offer is interesting for a week of idleness in our beautiful country or discover more unexpected places such as our Spanish friends .

Finally, at Vintage Camper, we also offer gift cards with an amount you can choose without a price limit.
So all available gift cards are on the T2 (vintage) combi rental or on the Volkswagen T6 California.
The end of the year celebrations are approaching, if you want to make discover or yourself discover the Van Life style, it is possible at Vintage Camper.
More surprises to come at Vintage Camper, stay tuned!
We remain available for any type of request.
Friendly Vintage Camper