AMIS CAMPER BONJOUR ! 
Are you looking for places to stay in a Van or a suit? We offer 5 sites in the South West region not to be missed…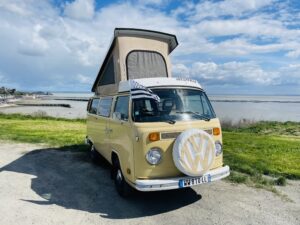 Less than 2 kilometres from the centre of Saint-Emilion, whose stones alone are worth a visit, the Château Arnaud de Jacquemeau opens the doors of its farm (in organic farming). Once you have parked your motorhome with a view of the vineyards, you will be able to refine your taste buds during a tasting of Bordeaux wines in the steps of the owner himself (on request). On the one hand an authentic and family atmosphere are guaranteed. therefore, to avoid traffic jams, remember to book! 8 locations are possible on site, what better to come with friends. In addition a visit and tasting of 2h30 are present. Finally, the toilets and water point are on site 2€ for 24h for electricity to pay upon arrival.
Adress : Jaquemeau 2, 33330 Saint-Émilion
phone : 05 57 24 73 09
A vast meadow, a lot of space to park (a luxury), a green setting with a small village (with a grocery store in the immediate vicinity) for scenery where the river flows… The motorhome area of Saint-Dizan-du-Gua, on the road to Royan, has all the equipment to pass one (or more!). Why not take advantage of being at the dock to see its 15th century castle with its magnificent gardens and set off on the wooded paths that lead to the Blue Fountains, a vast expanse of natural springs with amazing reflections. Finally friends camping-caristes, if you are looking for peace, you will find it here! the number of pitches is 25 and open year-round to enjoy in all seasons of the year. Water and electricity are 2€.
Adress : 4 Rue du Pérat, 17240 Saint-Dizant-du-Gua
phone : 05 46 49 96 19
Want tranquility by the river, in a peaceful village with incomparable charm? Brantôme, the Venice of the Périgord in the heart of the Dronne Valley, is the ideal place for a temporary stop of a few hours or longer of a handful of days (7 maximum). Then, why not take advantage of being nearby to visit the castles of the Dordogne. Its area is well landscaped, close to the town center. You can have a coffee or an ice cream under the shade of trees and shrubs. Before going to discover the beauties of this medieval city with narrow cobbled streets that lead to the imposing abbey on the cliff side. To remember: the number of pitches is 80, the price: Parking: 7.60 euros (October to May), 8.10 euros (from 1 June to 30 September). Package 5 hours: 1 euro. A maximum duration of parking: 7 days, access to the water point is 2 euros. access to the drain point: free. Tourist information panels on the site. WIFI Access and Disabled Access.
Adress : chemin du Vert Galant, 24310 Brantôme-en-Périgord
phone : 05 53 05 70 21Aire de Camping Car Brantôme
In the Landes there are plenty of rest and quality areas for motorhomes. Thus at the foot of the arenas, as in Azur or Pomarez. In the duck farms of Chalosse. And those, of course, feet in the water, hands in the sand and head under the pines. As on the area of Contis, at the foot of the eponymous lighthouse, just behind the dune. From the parking lot, you can hear the ocean. We love this corner for the spirit of freedom that reigns there, less crowded than the beaches of the coast further south (even if in high season, you may have neighbors). A wild side in the middle of the pines. If you love freedom, you will be served.
Adress : avenue du Phare, 40170 Contis Plage
phone : 05 58 42 80 08
5) Lake Mimizan, a quiet and relaxing place in the south west!
If you want to park your truck fitted out by a lake in Mimizan in the Landes. Nice place with a large lake, small bridge, children's play, toilets, drinking water… it's quiet and it's good. Spending the night is free and allowed and animals are accepted, besides many walkers come with their dog. To continue, all day fishermen come to test the fish. And apparently it bites! So if you're a fishing enthusiast, feel free to take your rod out here. You will also be able to see a flowering garden that is ranked #1 in the activities to do around the corner by Trip Advisor… that is to say. Indeed, a small ballad of about 15 minutes very nice. The setting is pretty and there are all kinds of beautiful plants.
Adress : 34 Avenue du Lac, 40200 Mimizan
Located in the district of Mayotte this camping area with its 17 pitches is the ideal place for campers looking for nature and peace. A few hundred meters, find the lake where you can fish, boat, water skiing… In addition, the ocean at 7 km will allow you to practice surfing, or simply relax enjoying the beaches of fine sand.
adress : 1674 chemin de Mayotte, Biscarrosse lac
05 58 78 74 58
We wish you a happy journey to all our fans of discovery and Van!
Do not hesitate to give us feedback on your spots or sleep or on the places we recommend!
Friendly Vintage Camper