The 5 reasons to choose a fitted van plus 2 bonus!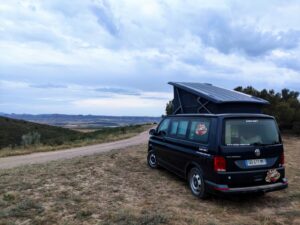 Here are our top 5 reasons to choose your van!
then go for it
1) Feeling free… escape guaranteed.
When you leave with a van, your adventure will be breathtaking.
Better than a motorhome with all its features in a space designed for, the van will no longer scare you.
Thanks to its beds integrate into the roof, your alarm clock will be even prettier, seeing the landscape from your single bed.
Your adventure will continue with its autonomy in terms of battery or comfort. Go without taking the lead.

2) Contact with nature, don't hesitate.
The fitted van is closer to nature thanks to its side door on garlic that allows to open and have nature at your feet. Just like the raised roof that offers even more visibility directly into nature.
It also has a large rear door that can draw air and therefore feel the environment around us even better.
Thanks to this detail, the van has everything to make you live moments close to nature.
3) Lightness and smooth handling.
The van drives like a car, it doesn't take more space than a big SUV. This makes it more convenient to drive or park in some car parks.
Its size could refer to a small utility, which reassures inexperienced drivers.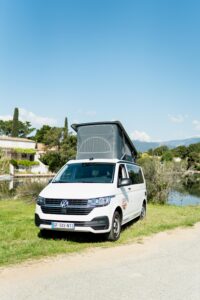 Thanks to its size this vehicle does not attract the attention of other passers-by, we do not know at first glance if it is a vehicle of tourism or leisure.
Its small size also allows to circulate in peace and so not to envy the envious.
The price of renting a van is more interesting given its proposed formula and all the equipment inside.
One of its qualities is the inexpensive price, at vintage camper we offer you the fitted van T6 for a weekend at the price of 390 €.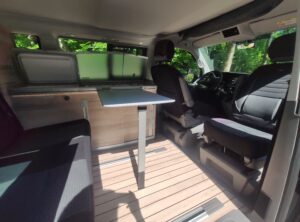 the two bonuses …
The fitted van is the best option for a weekend or a week of vacation.
Thanks to its multiple storage spaces and its compact space, you think you're stepping on it, which is not the case.
Completely autonomous in water and electricity it will delight the most adept or future van lifer.
7) Its height is an important option
The height of the van is just perfect, it can go from anywhere, can park on any parking lot or almost.
Better organized and more compact than a motorhome, it will be your friend for all small excursions.
To see all our models click here!
We are waiting for you many at vintage camper!
Friendly Vintage Camper !